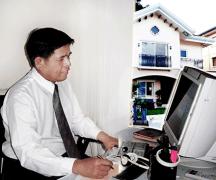 Profile of Manuel R. Arengo Jr. (Manny)
*Licensed Real Estate Broker, Real Estate License No. 2006-1185(N)
*5 years experience in Real Estate Industry, Land Asia Realty & Dev. Corp.
*21 years experience in Customer Service
*Former Territory Representative of Johnson & Johnson Phils., Inc. for 8 years
*Former District Manager of Johnson & Johnson Phils., Inc. for 5 years
*Master in Management,Major in Business Mgt, University of San Jose Recoletos
*Bachelor of Science In Mechanical Engineering Graduate & Passed the Board
*A Family man, with wife and 3 children, a native of Cebu since birth and living in the same family residence for the last 21 years.
Pursuant to Section 3(e) and (ee) of Act 2728, as amended, Executive Order No. 648, Presidential Decree No. 957, all real estate agents and brokers must secure real estate license from the Bureau of Trade Regulation and Consumer Protection and the Housing and land Use Regulatory Board.