CONDO FOR SALE CEBU

ULTIMA RESIDENCES FUENTE TOWERS

Stop Renting. Own a CONDO in CEBU, office or residential complete with high-end amenities.

High Rise ! Great View !

27 Floors

Commercial Offices for sale

Residential units for sale

Studio, one Bedroom, Two bedrooms available

Bigger spaces available by owning two or more units

6 level car park

Commercial on ground, 2nd, 7th & 8th floor

Residential on 9th up to 27th floor

Connects to Club Ultima & 38-floor Crown Regency Hotel - The tallest Tower outside Metro-Manila

CONDO FOR SALE CEBU: Cheapest Introductory Prices at Fuente Towers Ultima Residences

For commercial units: 22 sqm to 53 sqm at P1,234,200/unit to P2,973,300/unit. For residential units: 58 sqm to 84.5 sqm at P3,111,398.40/unit to P4,489,113.20/unit

5 years to pay No Interest

For as low as P35,000 per month

This is pre-selling CONDO CEBU units for your great investment. Construction is going on at Osmena Blvd., Cebu City. The latest addition to the development of CEBU REAL ESTATE. Estimated completion date: 2 to 3 years from the start of construction on August 2006. Low down payment of 20%, 50% payable in 5 years no interest, 30% retention (payable upon completion and turn-over of unit)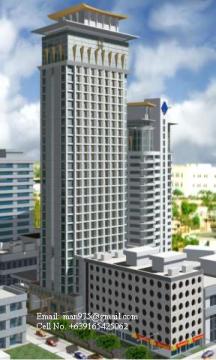 Make Club Ultima your second address, enabling you to move into a welcoming community of new friends and new opportunities in an exclusive, all-iclusive environment. Club Ultima offers you everything you may think of in terms of business, leisure, food, beverage, wellness and recreation in its:
Business Center
Food and Recreation Outlets
Wellness, Fitness and Health Facilities
Guest Rooms
The amenities of being a club member will exceed the club's doors by far as you are a VIP in each of the affiliated facilities:
Crown Regency Hotels, Suites and Residences
Prana Medispa
Metro Sports Center
Regency Day Spa
Regency Facial & Body Care
In addition, a club membership entitles each member to join the interval International vacation exchange.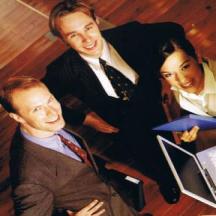 Enter the Club through the hub at the 19th level via two scenic high speed elevators and find yourself in the Business Center where fully furnished office suites provide a most prominent business address. State-of-the-art communication, media and IT facilities grant instant access to the regional and global marketplace. Highly trained staff will answer your calls on dedicated phone lines, set your appointments, handle confidential mail, relay messages and make your travel arrangements.
What you need. Conference rooms, boardrooms, reception areas and lounges create a natural environment conducive to working and meeting.
Our Wardrobe Management at the 17th level, which includes a private locker provides superb laundry service and will allow you to leave home with little baggage and to switch between business and recreation right away. You just leave your clothing at the Club and find it cleaned and pressed the next time you need it.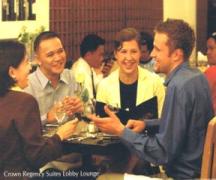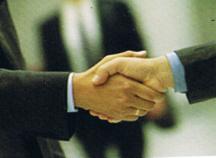 Our Business Center is open 24-7 offering:Audio-Visual / Media Room
Conference Room / Boardroom

Legal Consultants-on-call & Staff

Communications / IT Network

Cyber Cafe

Virtual Office

Mail / Message Desk & Courier Services

Meeting Rooms

Lounge and Snooze Lounge

Tea & Coffee facilities

Translation & Concierge Services

Video Conferencing

Wi-Fi Hotspot

Dine in our high-in-the sky restaurants and bars with their panoramic picture perfect views of the city and the environs. On top of that (and everything else) is our The Peak Restobar at the 23rd level offering stunning views and specially concocted gourment dishes, specialties, beverages and spirits.
A casual club atmosphere, the Night Talk Lounge at the 22nd level serves refreshments, cocktails and substantial snacks-to-share with family, business partners, associates, and friends in a most congenial setting.
Unwind your evening at Mr. Grill Bar and Restaurant on the 21st level. Enjoy your favorite char-grilled meat and seafood on this unique outdoor covered area that offers a breathtaking view of the city, that complements good company and good beverage in the evening.
The Wang Shan Lo Chinese Restaurant at the 20th level becomes a stage upon which to see and be seen as our Hongkong chef prepares imperial feasts in the subdued elegance of our main dining room or in our inimate private rooms. Rediscover the genius of nature. Enjoy the rich taste of healthy refreshments at our Juice Bar at the 18th level.
Kotei Japanese Restaurant at the 17th level serves delectable artistically prepared sushi and other Japanese delicacies.
As Cebu's VIP, you may avail your free guestroom nights at any of the Crown Regency Hotels, Suites & Residences.

At Crown Regency Suites Mactan, you will enjoy the harmonious balance of elegant Asian-inspired suites, warm first-class service and complete business and sports facilities. With up to three bedrooms, a kitchen and living area, the suites are all designed to maximize your comfort and convenience to satisfy the descriminating taste of business and leisure travelers alike.

Crown Regency Residences Cebu, conveniently located in Guadalupe, will be more than willing to welcome the business and leisure travelers.

Crown Regency Residences Davao, exceeding your VIP status beyond the City of Cebu, offering spacious villas along a tastefully designed pool area.

The Fuente Tower 2 will host the 54 Suite rooms Executive floor of the Crown Regency Hotel in its 11th, 12th and 14th floors.

As a club Ultima member, you are entitled to avail of free overnight stay(s) in any of the Crown Regency Hotels, Suites and Residences. Exceeding free nights, you are granted 30% privilege discount.

All Crown Regency Hotels, Suites and Residences meet the high standards their Interval International membership requires.
Everybody has his own ways of recovering from a busy day and preparing the upcoming challenges. Soak up new energy at our various recreation facilities at our Family Floor at the 18th level.

Get away from the madding crowd at our Library, which is stocked with latest periodicals and select reading materials.

For more action, visit the Table Game room, the ultimate activity center offering a multitude of choices, including billards, computer games, virtual golf, and virtual firing range. Or simply lounge around and relax and watch your favorite movies at the Audio Visual Room and Lounge.

Simply exercise in the Aqua Fitness Pool on the 17th level following the simulated current. The spacious pool invites for a swim.

Our private Lockers and Showers enable you to slip back into the business world right away.

You can power up at the Power Gym on the 15th level offering you full service from group exercises, cycling, cardio work-outs and body toning.

The Prana Medispa on the 16th level incorporates a rejuvenation spa that is like no other today. For your pleasure we offer:

Spa Treatments anti-aging, deep cleansing, whitening facials, body polish, exfoliation, whitening body treatments, aromatherapy, Shiatsu, Swedish and Indonesian massages and reflexology.

A dead Sea Pool, Watsu (Water Shiatsu) Rasul Steam room, Sauna, Oxygen rooms and Adventure Showers.

Our Tower Salon will readily avail you with the latest in hair styling, grooming and vanity.
The world is at your fingertips as you are privileged to enjoy all the benefits resulting from Club Ultima's affiliation to Interval International. Interval International is the Quality Vacation Exchange Network made up of more than 2,000 resorts all over the world.

As a Club Ultima member, you may take part in the Interval International timesharing program and choose from the many destinations in the world ranging from modern cities, breathtaking mountains to sandy beaches anc ountry villages. For your vacation, simply exchange a week's stay at your home resort for a week's stay at one of the many timeshare resorts accredited by Interval International.
Starting in the middle of 2007 the club's facilities will expand the Fuente Tower 1 Condo Cebu offering a total of 300 rooms and 2,000 square meters of function/banquet area. Two additional floors will host a medical diagnostic center, transforming the hassle of a medical check up into a leisure activity. The first 2 years of enrollment in Interval International is free.
CLUB ULTIMA MEMBERSHIP PRICES
Membership Category

Nominee

Room Nights
Privileges

Membership
Prices

20% Down
Payment

24 months
Amortization

Individual -A

1 Family

1 Night/year

P227,700

P45,540

P7,590/month

Individual - A (Int'l)

1 Family

7 nights/year

P378,000

P378,000

P12,600/month

Individual - B (Int'l)

1 Family

14 Nights/year

P550,800

P110,160

P18,360/month

Corporate - B (Int'l)

3 Families

21 Nights/year

P795,600

P159,120

P26,520/month